Here we look at what an EPC is, how you get one and (importantly) how you can improve it. There's been a lot of talk about EPCs of late and as we try to decarbonise the 29 million homes in the UK, it's important you know what this means.
The government has set the target of getting all homes in the UK to level C on their Energy Performance Certificate (EPC) before 2035. Currently the average rating for a UK home is D. And we don't think that's good enough. 
‍
But in order to improve your EPC rating, you need to know what it is in the first place, the value in improving it, and where to start. Which is where our nifty home assessment can help. 
‍
EPCs were brought in by the government in 2007 following a directive by the European Union on the energy performance of buildings. The aim was to make people more informed about how energy efficient their home is. It's generally understood now that any property below C is energy inefficient. 
‍
There's a number of reasons for improving your EPC rating: 
‍
It means your house is more energy efficient 
It means your house is more environmentally friendly 
It means your house is warmer
It should mean that your house is more valuable and can be sold for more. 
‍
Here we look at the ins and outs of the EPC world:
‍
What is an EPC rating?
How do I know what my property's EPC rating is?
How can I improve my EPC rating?
‍
Read: What could a whole house retrofit do for you
‍
1. What is an EPC rating?
‍
An EPC is broken down into four sections: 
‍
The property details
The rating 
The top actions you can take to improve your score
And what factors go into making the EPC rating
‍
It looks a bit like this: 
‍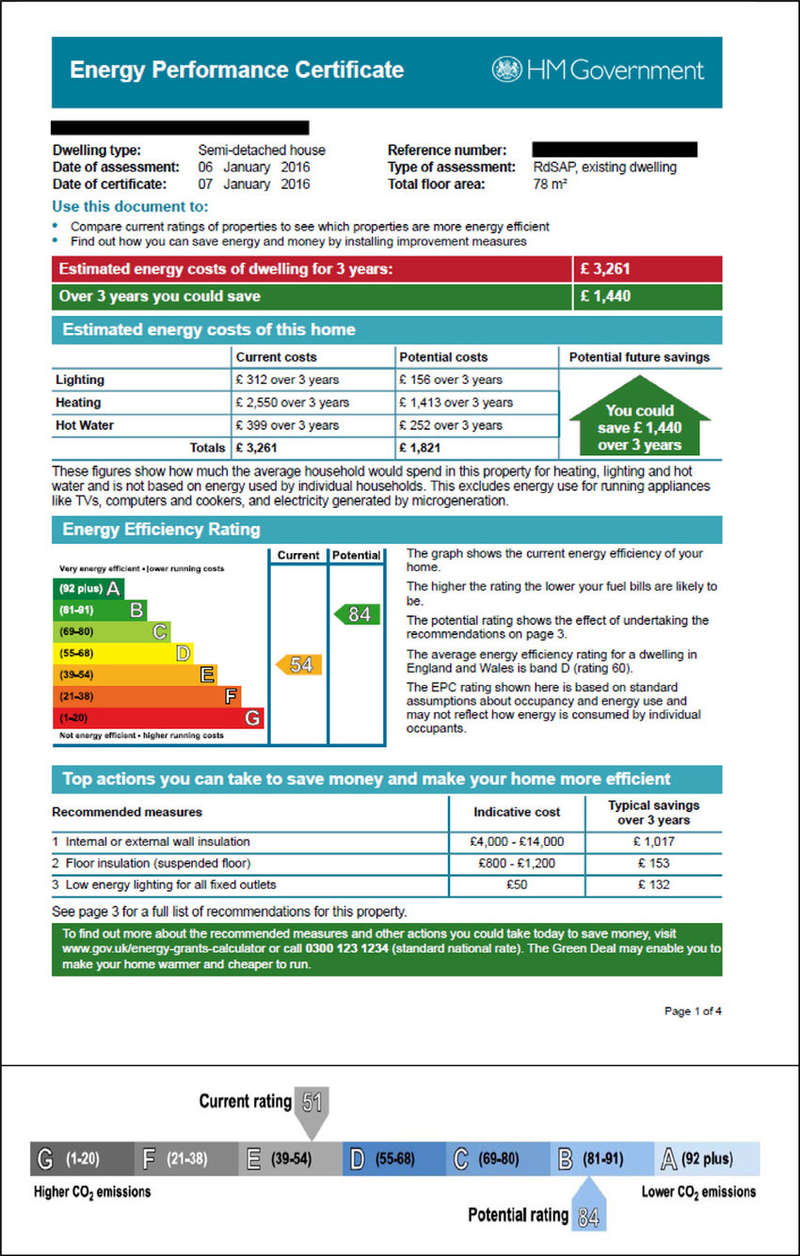 ‍
The property details include the general information about property, the type of property it is, its total floor area. It also tells you how much the energy costs should be for the property and how it compares to other, similar properties. 
‍
The rating gives you an immediate sense of what your home's energy efficiency is. It's rated between A (which is extremely efficient) down to G (which is extremely inefficient). The illustration also shows what the EPC could be if its recommended changes are carried out. 
‍
The rating is based on a set of criteria for your heating system, the insulation of the loft, windows and walls and your lighting system as well. The Building Research Establishment who set the rating system based this process on the Standard Assessment Procedure (SAP) which standardises the ratings across the UK housing stock. 
‍
The 'top actions you can take' section depicts the changes you can make to improve the EPC score, as well as the savings on energy bills that would result. This can include things like replacing the boiler, adding improved insulation to the loft and walls, getting double or triple glazed windows or installing a heat pump or smart meter. 
‍
The final section shows what factors go into making your EPC. It looks at each element of your property that uses or emits energy, such as your heating, lighting, walls, roof and floor. This helps you see where your home energy is costing you money. 
‍
Read: From heat-pumps to insulation: 5 ways I can reduce my bills for good
‍
2. How do I find out my EPC rating?
‍
You can find out your EPC rating by going to the government portal and putting in your address. This will only be accurate to the year it was produced though and may well be out of date if changes have been made since. 
‍
If you don't have an existing EPC for your property, or you want a new one following some work, you can organise an accredited energy assessor to visit and give you an up to date certificate. This is something Furbnow can organise if you get in touch with us here.
‍
Read: How retrofit works with other home renovations
‍
3. How can I improve my EPC rating? 
‍
You can improve your house through undertaking a range of retrofit work such as replacing your boiler with a more efficient one or a heat pump, installing better insulation, or replacing your windows with double glazed ones. 
‍
It's no mean feat, improving your EPC rating, depending on your home's current rating there will be a level of planning and labour that goes into making the upgrades. That's where Furbnow can save you the hassle, by assessing what your home needs and providing the accredited professionals to carry out the work. 
‍
We can project manage your home upgrades from start to finish. You just need to complete our assessment form and then it's up to you if you want to use us beyond that. 
‍
Read: The benefits of a warm, healthy home
‍
Here's a run through of some of the changes you can make to improve your EPC rating: 
‍
Floor insulation: Insulating the gap between your floorboards and the ground beneath can make a huge difference in retaining heat in your home and could save you up to £180 a year according to Energy Saving Trust. 
Solar Panels: At the upper end of home improvements. Not only can this reduce the amount of energy you use from the grid (the energy you pay bills for) it also means you can get paid for the energy you export to the grid. 
Double glazed windows: Windows are a common area of improvement for your EPC rating. Standard A-rated windows can save you over £200 a year on energy bills. 
Energy saving lighting: One of the most accessible ways you can improve your energy efficiency. Using entirely LED lightbulbs in a 3 bedroom home could save you £70 a year. 
Loft insulation: Heat will always escape through the top of your house, so it's important to reduce this as much as possible. You can top up your loft insulation yourself in many cases. A minimum of 270mm of insulation can retain heat and save you as much £70 a year.
Internal/External wall insulation: The most common recommendation to improve your EPC rating is to install wall insulation. Most UK homes have cavity walls meaning there's a gap in the middle that can be filled. Some older houses have solid walls in which case you can insulate these from the inside or outside, saving around £600 per year. 
‍
Book a home assessment and start your journey to a healthier home with Furbnow.
‍